Welcome to Scrappin with Friends
Halloween Drawing
Runs Oct. 15 - 31

Who says Halloween has to be spooky?! Not here at Scrappin with Friends. But we do have treats for you waiting at the checkout. You don't want to miss out on our Halloween Drawing October 31st.
With every new purchase you make between Oct 15 and 31 at Scrappin withFriends store earns you one ticket into our Halloween Drawing. No limit on entries! Does not include the freebies you must make a cash purchase!
On Oct. 31 we will draw tickets to see who wins the drawing. The winner will receive our End of Summer Grab Bags, that is 3 bags valued at $13.00
We are pleased to bring you our

End of Summer Grab Bags
A selection of our designers have come together to collaborate three grab bags. We are sure that you will find what you need no matter what project you are working on. The Commercial Use and the Personal Use bags are $5.00 each and the Papers bag is $3.00 Click on the previews to learn more.



Purchase the commercial grab bag and the personal use grab bag and get the papers FREE! Thats right FREE! You can't beat that deal. Thats over 300 items for the amazing price of only $10.00 and you can only get it at Scrappin with Friends Store.

To get the papers grab bag free please purchase the cu and pu bags then email us the confirmation number using the contact us link on store and we will send you a coupon to download the papers bag for free.
We also have a designer, Purple Dragonfly who is running a great Oct sale. Buy a total of $10.00 in her sales an get $2.00. At check out be sure an add the coupon code to get your $2.00 off. Enjoy shopping.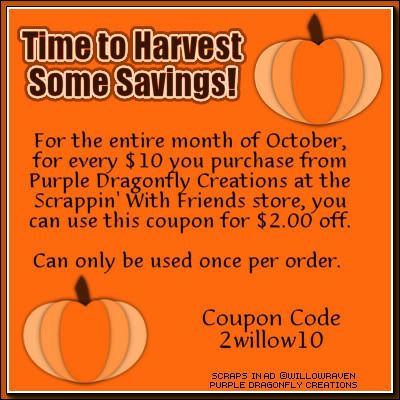 Don't forget to look around in each designers section for some other great offers. We have lots of new items that are waiting to go home with you. So,come on in and grab a shopping cart and enjoy your shopping spree with us.

As always, Thanks for shopping with us here at Scrappin with Friends. We value our customers and hope to see you come again.